This office is listed as being situated 11 miles from Warwick. The Upper Freestone Receiving Office opened in 1879. The name was changed to
Freestone Creek (Upper) in 1891 and then to Upper Freestone about July 1923. It was designated a Post Office late 1927 and closed April 1929, to reopen in April 1930/31 and close finally in 1965, when it was situated at the home of Mr & Mrs Boyce.
Receiving Office Keepers 1879 Robert Rippingale - teacher at the
cottage of Joseph Ryan
" " 1887 J. Liddle (William) - teacher at the
new school - Portion 8 Parish Robinson
" " 1890 H Rippingale
" " 1894 Mrs Rippingale
" " 1897 Mrs Noble (farm)
" " 1909 Timothy Donovan (Teacher)
The post office and telephone exchange were also operated from the homes of Pat Ryan (where Hughes live now) and then moved to Ramseys, later Boyces (now Norm Coys) until its closure on 8/12/65.
The residents of Freestone/Upper Freestone now enjoy a roadside mail delivery 5 days a week. Mail Service 394 takes in Freestone, Clintonvale, Gladfield and Maryvale areas and is one of the largest services based at the Warwick Post Office.
Freestone first appears in the telephone directory of 1929, where the Grain Shed is listed as the only subscriber.
The telephone exchange was also operated from the railway office and the hours were from 9am to 6pm. From 1937, the hours the railway office were open for business changed to 9am to 1pm, 2pm to 6pm and on Saturday from 9am to 1pm.
In the directory of 1950, a list of some 21 subscribers connected to Lower Freestone can be found. From the railway, the exchange moved with the Post Office, to Mick Booth's store, and remained there until January 1973, when residents were connected by party line to Warwick.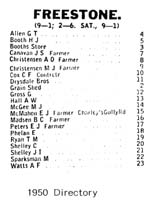 (1950 Directory)
Party line was used as the automatic exchange was not ready for the subscriber's use. This new automatic exchange, described as a "SCAX" exchange, came into use on 17/10/73 and 52 subscribers were connected. (The large increase in subscribers included the residents of Upper Freestone, following the closure of their Post Office exchange in 1965).
STD calls were not available at the time of the installation of the exchange. STD became available some time later.
On 5th June 1985, a new automatic exchange replaced the old "SCAX" and there were now some 99 subscribers connected. This exchange not only allows for STD calls but subscribers can direct dial their international calls, should they so desire. As on 1988 there were 140 subscribers connected to the Freestone exchange.
The first listing for the Upper Freestone exchange was in October 1924, and this was for BCC Kirkegaard. This remained the only connection until 1928, when M Angland had a phone connected, followed by JA Hallman in 1929. By 1950, some 24 subscribers were connected to the Upper Freestone exchange. Calls from Upper Freestone continued to be handled through the local post office/telephone exchange until 1965, when the Post Office closed. Upper Freestone subscribers were then connected to the Freestone exchange.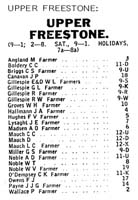 (Upper Freestone directory)
Ref. Australia Post Historical Section.
Telecom Public Relations Dept.
(Picture)
(1905 Telegram)