STUDENT ROLL 1902 - 1988
The following pupils are listed according to the year in which they were enrolled.
From our records, no details are available prior to 1902 owing to Admission Registers being destroyed or misplaced.
1902 (On roll as at March 31)
Phelan, John. McLure, Frank. Bourke, Kate. Phelan, Martin. Ryan, Mary. Allen, Rex. Davis, Ellen. McMahon, Thomas. Wilson, Eileen. Watt, Martin. Hallman, Ida. Reynolds, Leon. Phillips, George. Larsen, Elsie. Watt, Winnie. Simon, Cecil. Nolan, Kate. Phillips, Fred. Phelan, Kate. Pigram, Harold. Wilson, Alice. Ryan, Thomas. Hallman, W. Ryan, James. Bourke, John. McLure, May. Pigram, John. Pigram, Florence. Pigram, Frank. Nolan, Theresa. McMahon, Mick. Kadow, Hugh. Larsen, Emma. McMahon, J. Larsen, Nellie. Smith, Cecil. Hughes, Annie. Wilson, Aubrey. Bell, John. Evans, Sidney. Larsen, Lily. McLure, William. Phillips, W Simon. McMahon, Kate. Smith, . Rogers, Venetia.
1904
Ford, Percy. Wright, Frank. Hagenbach, Letitia. Walker, Thomas. Nolan, Annie. Walker, Ethel. Phillips, Susan. Phillips, Lily. Doran, Jas. Smith, Ivy. Frawley, Kate. Donoghue, Nellie. Donoghue, Norah.
1905
Hagenbach, Peter. Smith, Charles. Doran, Mary. Bell, Lillian. Allen, John. Miller, Albert. Holmes, Eric. Ryan, Michael. Smith, Augustus. Houlihan, James. Doran, Annestasia. Ryan, Nellie.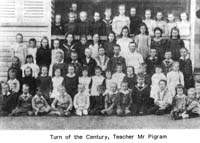 Turn of the century, Teacher Mr Pigram.
1906
Phillips, Florence. Leaver, Leslie. McKechnie, Angus. Hagenbach, Mary. Hagenbach, Margaret. Cox, Olive. Larsen, Victor. Larsen, Clara. Simon, Eric.
1907
Thompson, Allan. McDonnell, Bridget. Ford, Susan. McDonnell, Annie. Walker, Dora. Jones, Mary. Doran, John. Jones, John. Tucker, Sophia.
1908
Callis, Gladys. Phillips, Elsie.
1909
Moore, Grace. Bishop, Winefred. Bishop, Charles. Kadow, Elsie.
1910
Shelley, Vera. Simon, Charles.
1911
Logan, Marie. Bishop, Walter. Smith, Stanley. Bell, Frederick. Bell, Mary. Bell, Walter. Briggs, Jessie. Rattray, Millicent. Rattray, Mary. Wood, William. Smart, Maggie. Burke, Bridget. Yaxley, Grace. Hagenbach, Tessie. Hagenbach, Peter. McIntosh, Marjorie. Shelley, Florence. Shelley, Charles. Tucker, Walter. Jones, Doris. Larsen, Arthur. Rippingale, Owen. Kyling, Charles. Kyling, Millie. Kyling, Edith. Shelley, George. Madsen, Clarence. Hansen, William.
1912
Christensen, Andrew. Byrnes, Frank. Briggs, Ethel. Eastment, Leslie. Carter, Arthur. Carter, Phillip. Doran, Ellen. Duncan, Leslie. Duncan, Allan. Duncan, Ralph. Duncan, Rory. Rippingale, Leslie Thomas.
1913
Matthews, Angus. Christensen, Ida. Briggs, Chas.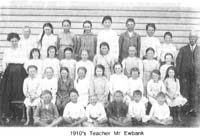 1910's teacher Mr Ewbank.
1914
Tucker, Thomas. Shelley, Ernest. Gosley, Ernest John. Smith, Leonard. Shelley, William. Christensen, James. Mole, Leslie.
1915
Shelley, James. Rippingale, Daisy. Biney, Emily. Biney, Willie. Dennison, Margaret. Christensen, Arthur. Tucker, Doris. Briggs, Alice. McKecknie, Dorothy. Mole, William. Shelley, Ivy.
1916
Booth, Mary. Briggs, Alice. McKennarey, Kevin. McKennarey, Leonard. Elliot, John. Shelley, Hannah. Booth, Ellen. Christensen, Ivy. Doran, Doris. Odgaard, John. Woogord, Arthur. Woogord, Annie.
1917
Tucker, Irwin. Tucker, Josephine. McKecknie, Dorothy. Shelley, Jessie. Phelan, Mary. Mutch, William. Mutch, Elizabeth. O'Connor, Ellen. Miton, Walter.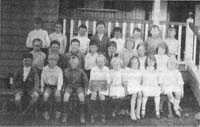 1918
Tucker, Arthur. Tucker, Doris. Booth, Kevin. Shelley, Mary. Briggs, Robert. Kilpatrick, Gay. Kilpatrick, Una. Nolan, Hilda. Simon, Will. Williamson, James. Williamson, Dorothy. Williamson, Rosa.
1919
Shelley, John. Nolan, Edward. Mutch, Esther. Simon, Evelyn.
1920
Ryan, Margaret. Booth, Lucy. Ryan, Mary. Phelan, Norah. Williamson, Kenneth. Bailey, Effie. Hartnett, James.
1921
McKenzie, Annie. Shelley, John. Shelley, Francis. Shelley, Clarence. Porter, Catherine. Ryan, Patrick. Larsen, Allen. Tucker, Amy. Larsen, Dulcie. Lancaster, Doris. Hallman, Sydney. O'Dempsey, Annie. Cox, Keith. Gould, John.
1922
Mutch, Elizabeth. Budd, Stella. Mutch, Edna. Owens, Annie. Doran, Doris. Owens, John. Booth, Patrick. Owens, Francis. Nolan, John. Phelan, Bridget. Shelley, Albert. Hall, Dudley. McKaskell, Lily. Allen, Adeline. Tucker, Doris.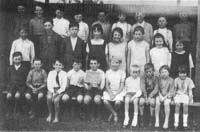 Early 1920's.
1923
Bailey, Neta. Craike, Clarence. Clarke, Elsie. Craike, Douglas. Biltoft, James. McKechnie, Lily. Shelly, Verney. Palmer, William. Nolan, Margaret. Palmer, Lloyd. Craike, Flora. Cox, Gordon. Craike, Pearl. Fletcher, Margaret.
1924
Booth, George. Owens, William. Clarke, Mary. Tucker, Joyce. Ryan, Thomas. Bailey, Herbert.
1925
Shelley, Albert. Gould, Herbert. Groves, Keith. Biltoft, Albert. Cox, Darcy. Biltoft, Alma. Larsen, Joyce.
1926
Bell, Reuben. Shelley, Gordon. Bell, Iris. Phelan, Mary. Hartnett, William. Gould, Francis. Nolan, Mary. Hall, Beric. Owens, Bridget.
1927
Phelan, Monica. Allen, Jessie. Free, Phyllis. Allen, George.
1928
Biltoft, Edgar. Porter, William. Hartnett, George. Gross, Eric. Nolan, Annie. Atkinson, Ronald. Bell, Milicent. Shelley, Lancelot. Porter, Catherine. Ryan, Rose. Porter, John. Ryan, Barbara. Ryan, Catherine.
Years 1921, 1926 and 1929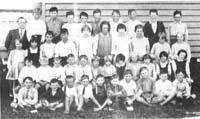 1929
Booth, Harold. Shelley, Mabel. Phelan, Margaret. Tucker, Ruby. Tucker, Isabel. Morrison, James. Morrison, Kevin. Morrison, Desmond. Hall, Noel. Hall, William.
1930
Henricksen, Hylton. Hansen, Vernon. Hansen, Audrey. Nolan, Julia. Phelan, Thomas. Ryan, Cornelius. Williams, Olwen. Booth, Michael. Booth, Margaret. Morrison, Patrick.
1931
Porter, James. Drysdale, Mavis. Shelley, Eileen. Bourke, Gabriel. Hall, Douglas. Young, Moira.
1932
Ivey, Dorothy. Cleland, Sydney. Brown, Kevin. Brown, Nell. Nolan, Stephen. Drysdale, William. Head, Shiela. Smith, Lionel. Head, Laurie.
1933
Head, Edward. Young, Beryl. Groves, Freda. Porter, Raymond. Groves, Kenneth. Tucker, Edward. Head, Bernice. Hansen, Verris. Phelan, Martin.
1934
Drysdale, Henry. Young, Robert. Wiggins, Mervyn.
1935
Bell, Thomas. Gross, Colin. Tucker, Maxwell. Drysdale, Arthur. Ryan, Eileen. McLean, Bruce.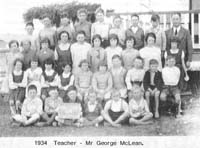 1934 teacher - Mr George McLean.
1936
Shelley, Doris. Madsen, Dulcie. Madsen, Madge.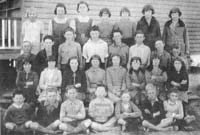 1936
1937
Ramsey, Thomas. O'Dempsey, Darcy. Sparksman, Kevin. Nicholls, Vincent. Nicholls, Venesia. Madsen, Colin. Madsen, Norman. Watt, Andrew.
1938
Roberts, Colin. Lloyd, Olwin. Madsen, Gwendoline. Madsen, Douglas. Reddacliff, Eric. Ramsey, Vincent.
1939
O'Dempsey, Valerie. Shelley, Ronald. Cox, Raymond. Watt, Graham. Francis, Pamela.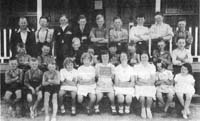 1940
Mutch, Marjorie. Cox, Rose. Tucker, Beryl. Sparksman, Vincent. Nicholls, Mervyl. Roberts, Ian. Shelley, Kenneth. Williams, Jacqueline. Williams, Fay.
1941
Roberts, Lorna. Christensen, Valmai. Smith, Russell. Cox, Norman. Booth, Mary. Lysaght, Miriam.
1942
Morrissy, Marie. Morrissy, John. Mutch, Allen. Sparksman, Desmond. Watt, John. Shelley, Keith. Geeves, Sidney. Brown, Arthur. Brown, James. Finney, Cyril. Horsley, Francis. Hawgood, Gwen. Ryan, John. Ryan, Annie. Ryan, Michael. Ryan, Bernadette. Ryan, Barry. Kennedy, Nola.
1943
Madsen, Allan. Lowe, Robert. Shelley, Nancy. Morrissy, Loretta. Shelley, Dulcie. Christensen, Beryl. Lysaght, Zita. Kirkegaard, Allan. Booth, Elaine. Sparksman, Gerard. Francis, Frank. Davis, Noel.
1944
McGee, Keith. Shelley, Graham. Shelley, Lionel. Cox, Lola. Cox, Laurel. Cox, Lorraine. Madsen, Barbara.
1945
Madsen, Kenneth. Morrison, Mary.
1946
Shelley, William. Cox, Shirley. Ryan, Bernadette.
1947
Hildred, Valerie. Shelley, Marion. Christensen, Colin. Reid, Keith. Reid, Phyllis. Reid, Colin. Reid, Eileen.
1948
Morrison, Maureen. Ryan, Thomas. Hildred, Beatrice. Cox, Marlene. Hall, Brian. Francis, Ian. Peters, Mary. Peters, John. Drysdale, Margaret.
1949
Cox, Malcolm. Shelley, Olwyn. Ryan, Eileen.
1950
Byrne, John. Christensen, Douglas. Byrne, Kevin. Morrison, Colin. Ryan, Elizabeth. Peters, Austin.
1951
Mannion, Neville. Mannion, Raymond. Somerfield, Freda. Somerfield, Jilda. Somerfield, Beris. King, Colin.
1952
Phelan, Martin. Shelley, Allen. Cox, Gregory. Byrne, Laurence. Morrison, Patricia. King, Monica. Hall, Deirdre. Cox, Maree. Bertram, Donald. Hobbs, Leonard. Smith, Sonya.
1953
Peters, Michael
1954
Cox, Norman. Booth, Patricia. Byrne, Marion. Booth, Valerie. Drysdale, Aileen. Phelan, Helen. Ryan, Bevan. Campbell, Michael. Campbell, Colin.
1955
Smith, Geoffrey. Morrison, Joseph. Shelley, Bruce. Booth, James. Peters, Edward. Nolan, Catherine. Phelan, Margaret. Southee, Laurence. Southee, Daphne.
1956
Lewis, Peter. Cox, Janet. Southee, Charles.
1957
Lewis, Annette. Johnson, Niels. Shelley, Trevor. Nolan, John. Booth, Kenneth. Nolan, Maree. Christensen, Allan. Booth, Neville. Darr, Geoffrey. Darr, Robyn. McMonagle, Peter.
1959
Nolan, Joan. Mauch, Marie. Byrne, Margaret. King, Dolour. Cantwell, Patrick. Shelley, Laurence. Booth, Joseph. Johnson, Maxwell. Robinson, Karen.
1960
Wilson, Coral. Wilson, Sydney. Wilson, Raymond. Wilson, Kenneth.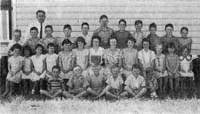 1960 teacher - Mr Keith Robinson
1961
Wilson, James. Booth, Elizabeth. Madsen, Lynne. Johnson, Marion.
1962
Cubitt, Clarence. Nolan, Stephen. Booth, Kevin. Mauch, Verlie. Palmer, Robyn.
1963
Booth, Marceline. Booth, Kathleen. Booth, John. Shelley, Bernard. Bourke, John. Roche, Peta. Roche, Patricia. Gillespie, Christine. Johnson, Jennifer. Booth, Maree. Cubitt, Janice. Robinson, Wendy. Roche, Brian.
1964
Doyle, Joseph. Doyle, Leonard. Doyle, Desmond. Booth, Shirley. Shelley, Clifford. Ryan, Barry. Booth, Michael. Madsen, Deborah. Booth, Noel. Mauch, Lloyd. Mauch, Albert. Hughes, John. Hughes, Gregory. Briggs, Dianne. Payne, Christine. Payne, Elizabeth. Payne, Margaret.
1965
McMahon, Shirley. McMahon, Kerry. McMahon, Shane. Shelley, Coralee. Bourke, Carmel. Mauch, James. Hughes, Leanne. Gillespie, Raymond. Watts, Peter. Wilson, George. Wilson, Colin.
1966
Roberts, Kathryn. Briggs, Roger. Watt, Garry. Palmer, Ross. Booth, Merle. Bourke, Julie. Booth, Laurence. Humberdross, Raymond.
1967
Madsen, Kathryn. Hughes, Gayle. Hughes, Ross. McVeigh, William. Briggs, Dianne. Briggs, Peter.
1968
Booth, Margaret. Bourke, Veronica. Briggs, Linda. Roberts, Paul. McVeigh, Keith. Hughes, Darryl. Ryan, Christopher. Booth, George. Watt, Terrance.
1969
Briggs, Keith. McVeigh, Michael. Shelley, Leanne. Shelley, Charmaine.
1968 - teacher - Mr Peter Roberts
1970
Bourke, Dennis. Watt, Janelle. Briggs, Ian. Christensen, Phillip. McVeigh, George. Shelley, Deanna. Booth, Lynette.
1971
Christensen, Michael. Christensen, Anna. Shelley, Rosalie. Shelley, Jillian. Payne, John.
1972
Gillespie, Colin. Booth, Mary. Noble, David. Noble, Vincent. Noble, Peter.
1973
Roberts, Bryan. McVeigh, Joann. Watt, Annette. Christensen, Scott. Bourke, Margaret. Lennon, Michael. Hallman, Leanne. Hallman, Paul. Hallman, Maritta. Collins, Michael. Collins, Mark.
1974
Hallman, Collette. Castle, Kevin. Christensen, Neil. Rayner, Scott. Rayner, Martin. Harbers, Veronica.
1975
Gordon, Dean. Castle, Susan. Shelley, Kerry. Mauch, Debra. Lennon, Peter. Rayner, Peter.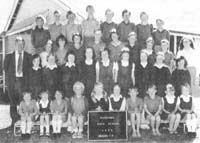 1975 - teachers Mr Barry Lennon and Mrs Alison Payne.
1976
McVeigh, Paul. Payne, Roland. Mauch, Christopher. Louden, Noel. Howson, Dawne. Seidl, Anthony. Casey, Robert.
1977
Mauch, Keith. Bourke, Jacqueline. Bourke, Genevieve. Briggs, Debra. Briggs, Charles. Briggs, Annette. Briggs, Petricia. Casey, Robert.
1978
Hathaway, Anne-Marie. Coy, Grant. Byrne, Gerard. Christensen, Karen. Hallman, Karen. Watt, Wayne. Payne, Judith. Grant, Phillip. Grant, William. Seckold, Peter. Seckold, Joylene.
1979
Mauch, Glenn. Mauch, Susan. Eastwell, Wayne. Grant, Tania. Stanfield, Christina. Stanfield, Elizabeth. Harbers, Ramona. Rippingale, Kent. Rippingale, Bruce. Butler, Michelle.
1980
Harbers, Kamahl. Kasuba, Peter.
1981
Byrne, Megan. Coy, Anita. Eastwell, Karla. Mauch, Steven. Alford, Wayne. Alford, Cynthia. Belford, Darren. Belford, Troy. Belford, Lucinda. Belford, Katrina. Kasuba, Tina. Pean, Jasmine.
1982
Athorn, Jacqueline. Payne, Samantha. Christensen, Lindsay. Mauch, Linda. May, Amanda. Olsen, Rebecca. Payne, Helen. Harbers, Rene. Pean, Francoise. Bonney, Michelle. Williams, Katrina. Williams, Nathalie. Williams, Dale. Davis, Mary-Ellen. Davis, John.
1983
Kidd, Michael. Harbers, Albert. Byrne, Melissa. Mauch, Matthew. Mauch, Graham. Mauch, Andrew. Mauch, Paul. Davidson, Sasha. Davidson, Megan. Davidson, Emma.
1984
Coy, Angela. May, Kellie. Killin, Kerry. Neumann, Gregory.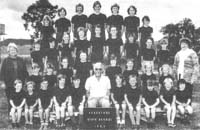 1983 teachers - Mr Bill Davidson, Mrs June McBain.
1985
Mauch, Tanya. Dwyer, Justin. Frazer, Kirsty. Briggs, Tanya. Hatingh, Josie. Gillespie, Robert.
1986
Gillespie, Terry. Kemp, Robert. Mauch, Garry. May, John. Payne, David. Byrne, Kylie. Gillespie, Natalie. Mauch, Heather. Singleton, Jeffrey. Singleton, Peter. Eyles, Cameron. Martin, Jason. Martin, Harold. Perquin, Mark. Perquin, Bianca.
1987
Drysdale, Michelle. May, Michael. Towns, Kerry. O'Hara, Michael. Gaudie, Nicola. Gaudie, Julianne.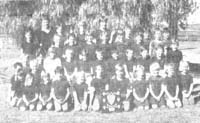 1987 winners of Palmer's Shield.
1988
Mauch, Jennifer. Perquin, Ronald. Gillespie, Melissah. Coy, Kylie. Singleton, Anne. Kemp, Jamin. Gaudie, Kelly.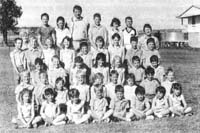 1988 school children
(Left to right)
Back row:- Mrs June McBain, Jimmy Christensen, Nicola Gaudie, Mr Roger Cavanagh, Michael O'Hara, Melissa Byrne, Rene Harbers, Mrs June Small.
Second Row:- Albert Harbers, Mark Perquin, Samantha Payne, Helen Payne, Andrew Mauch, Amanda May, Linda Mauch, Peter Singleton, Cameron Eyles.
Third Row:- Paul Mauch, Robert Gillespie, Angela Coy, Bianca Perquin, Kelly May, Graham Mauch, Matthew Mauch.
Fourth Row:- John May, Gary Mauch, Heather Mauch, Natalie Gillespie, Kylie Byrne, Julie-Ann Gaudie, Tanya Mauch, Jacob Kemp, David Payne.
Front Row:- Kylie Coy, Anne Singleton, Jennifer Mauch, Michael May, Ronald Perquin, Jamin Kemp, Melissah Gillespie, Michelle Drysdale.
.